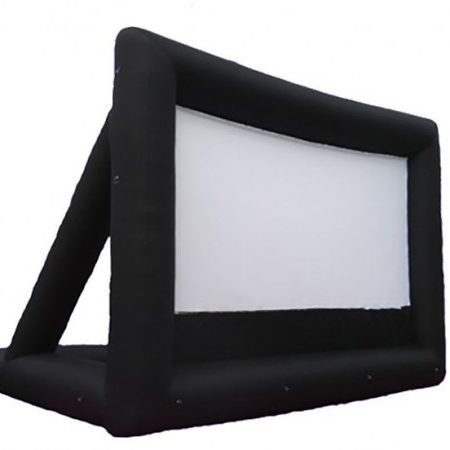 Inflatable Movie Screen
Actual Size: 20'W x 16'H x 8'D
Setup Area: 24'x16'
Outlets: 1




Rental Includes:
-200" (16ft) Inflatable Projection Screen with 16:9 aspect ration for an incredibly immersive experience.
-2000 Lumen DLP HD Projector
-1000 Watt Sound System with 2 Speakers/Bluetooth Capable
-BluRay DVD player
-Popcorn Machine. Popcorn and Popcorn Serving Bags may be purchased for an additional price.
-Rental time is for one full length movie, about 3 hours.
-For Best Results, movie must start after its dark
Screen Size is 20 ft. Wide x 13 1/2 ft. High x 8 ft. Deep. You will need a space of 20 ft. x 8 ft. or more to accommodate the screen.
Continue To Scroll Down For Answers to your
Frequently Asked Questions
Screen Dimensions: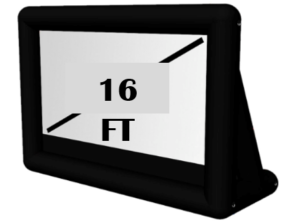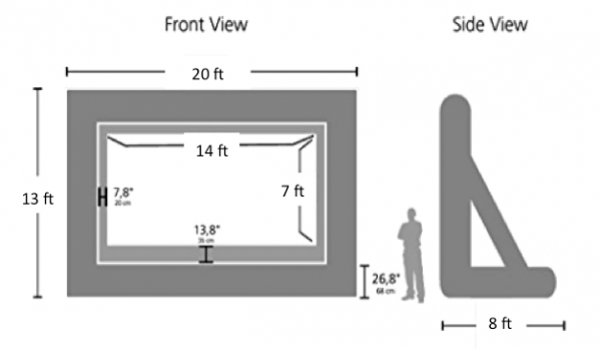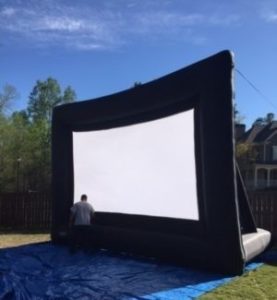 êSee Ways to Enjoy our Screenê
At School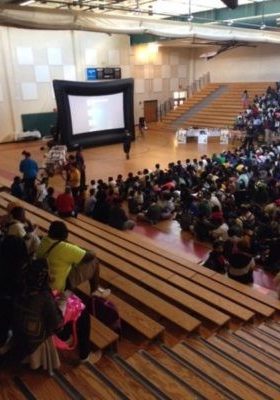 By The Pool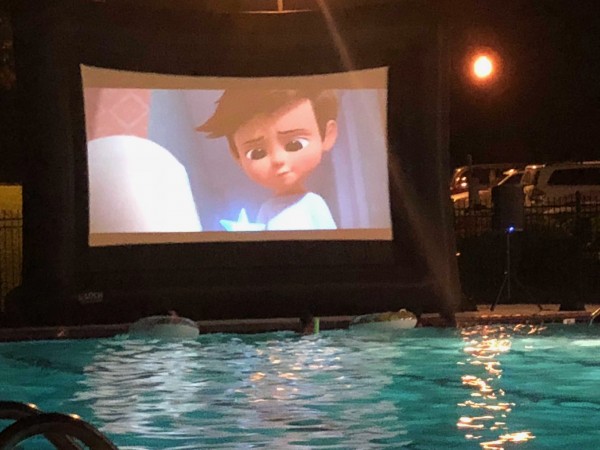 Watching Live Sports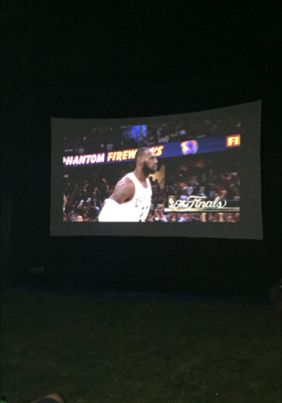 Apartments, Condos, and Condo Communities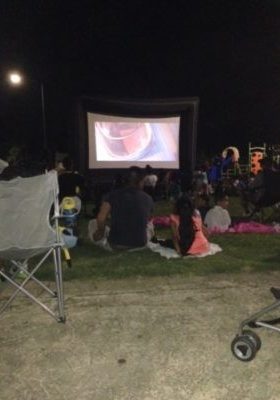 Backyard Parties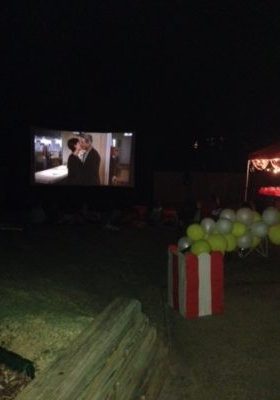 FAQ's(Frequently Asked Questions)
Q: What does the rental price include?
A: The price includes, set-up and tear-down of all equipment. There will be a Delivery Charge for the Screen based on distance from our Warehouse. Rates: Ask for quote.
Q: What are my payment options?
A:You have the option to pay with Credit/Debit Card, Bank ACH or Cash before the day of the event.
Q: What time will you arrive at my event?
A: We will arrive approximately 1 hour prior to your scheduled movie start time. We will play your choice of music from your bluetooth enabled device before the movie starts.
Q. When can we start the movie?
A: We like to start 10 to 15 minutes after sunset unless a later start time is requested. Keep the age of your viewers in mind when planning your event. We are typically onsite 3 to 4 hours.
Sunset times are available from http://www.sunrisesunset.com/USA/Georgia.asp.
If you would like a later start time please specify with Customer Service at the time of scheduling.
Q: How long can keep the screen and equipment?
A: Our rental period is approximately 3 hours. If you would like to purchase more time for a double feature, the equipment is available for an additional $100 per hour.
Q. Can our family or group pickup the movie screen and audio/visual equipment ourselves and setup?
A: Sorry, but we require that our equipment and electronics be professionally set-up and taken down to ensure safety. For the safety and enjoyment of the event by you, your children, guests, and friends, it is best to leave the work of this experience up to Rent The Occasion.
Q: Can I show a movie during the daytime?
A: No, Not yet, but we are researching how to give guests this option.
Q: Are your screens rear projection?
A: Yes, our screens are capable of rear projection. In fact, we prefer to do rear projection to keep the equipment out of your way. If space is not available for rear projection, then we will setup in front of the screen.
Q: Can you project BluRay DVDs?
A: Yes we can.
Q: Are there any requirements for where the movie screen will be setup?
A: The location where the screen will be installed should be clean and flat as possible. Before delivery of the equipment, you should have a location in mind and ensure its clear of any rocks, sharp objects or pet droppings. The area where the Inflatable Screen will be installed should be about 20 x 16 with no obstructions to the view of the screen We can set up on your driveway, front yard, by the pool, or indoors. Please specify the location when scheduling with Customer Service so we will have the proper anchoring equipment.
Q: Will the screen damage my grass?
A: Our Screens are very lightweight and will not damage your grass during the 3-5 Hour Rental Period.
Q: Can we use the Inflatable Screen if there is no power outlets Close to the viewing area?
A: If an outlet is not available within 100 feet, a Generator can be provided at an additional cost of $75.00. If this is a concern please inform Customer Service when scheduling your rental.
Q: Can the inflatable movie screen be set-up indoors?
A: Yes! The inflatable screen can be set-up indoors if the ceiling clearance is at least 16 feet high. We can inflate the screen anywhere that will allow for the 20 ft wide x 16ft high space. There may be an additional fee for indoor set-ups. Also please account for extra noises due to the blower motor and the sound system being at a higher level to compensate indoors. Please ensure to inform Customer Service at the time of scheduling if your Event will be indoors.
Q. Can the movie screen be setup near a pool?
A: Yes! We require a 20 by 16 Foot space to setup the screen for Rear Projection. We need enough room to allow for setup that is clear from the pool edge. We must ensure our electronics do not get wet from the splashing of your guests in the pool. We do NOT 'float' our screen in the water.
Q: Can your screens handle the wind?
A: Our screens can handle winds gusts up to 23 mph (when trees start to sway vigorously). We can setup equipment with winds of up to 15 mph. Beyond 23 mph gusts or sustained wind, our technicians will immediately deflate the screen. The screen can safely deflate in less than 20 seconds. In windy situations, we often shift screen placement so that the screen is parallel to the wind.
Q: What is your Cancellation and Refund Policy?
A: No additional charges will be applied if you change your event date due to inclement weather. If our movie screen rental crew arrives to set up the equipment and there is an event cancellation without notice, other than weather related, the full amount is non-refundable. In case of a cancellation for other than inclement weather, 1 weeks notice is required in order to receive a Full Refund. Rent The Occasion reserves the right to cancel any rental due to inclement weather (rain or wind above 15 mph, etc). You may also shift event dates due to forecasted inclement weather. You must call to cancel or reschedule by 4pm prior to your scheduled event and/or before our staff has begun to travel to your event. We offer you a 1 year raincheck on any of our rental items based on item availability. You may apply your deposit towards a different date or a refund will be made if a deposit was secured. If the weather looks threatening during setup or after the movie has started(rain, looming thunder clouds, dangerous winds capable of damaging equipment) we reserve the right to protect our equipment setup/ production. In the event that the movie is started, and it goes over the halfway mark, no make up date will be offered.
Q: How many of your staff members will show up to our event?
A: We will send 1 or 2 technicians to setup the inflatable screen and instruct you how to operate the Popcorn Machine. The technician(s) will remain with the equipment to answer questions, ensure safe operation, and monitor weather conditions.
Q. Do I need a license to show a movie in public?
A: If you are hosting a backyard movie party in the privacy of your own home you should NOT need a film license. If you are planning a movie event for a large audience such as a school, apartment complex, church or other type of business, we HIGHLY recommend a license to show your movie. As the equipment provider, we are legally not permitted to obtain the license for you.
Q. How do I obtain a Public Performance License
A: You can obtain a Public Performance License by contacting one of the following entities listed below. Fees are determined by the Title of the Movie, How large the audience will be, whether it's an inside or outside viewing, the location of the viewing(School, Park, etc.), and some other factors.
Swank Motion Pictures, Inc. www.swank.com (800) 876-5577
Criterion Pictures www.criterionpicusa.com(800) 890-9494
Motion Picture Licensing Corporation (MPLC) www.mplc.com(800) 462-8855