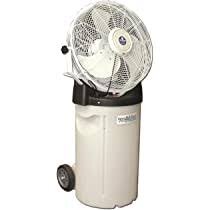 MISTING FAN (18" PORTABLE VERSAMIST)
The versa mist portable low pressure misting fan reduces air temperature by as much as 30 degrees.
Wheeled version has integrated handle and wheels for easy movement
Total watts is 250
10 gallon tank
Times between fills is 7 hours
14 gallon built-in water reservoir
Adjustable fan head for targeted cooling
3 speed switch included
Rapid mist evaporation produces 16,000 BTU/hour (1.4 tons) of cooling
Integral tip switch to turn power off if unit is knocked over
25 foot outdoor rate power cord with integrated GFCI plug for standard wall outlet
UL 507 rated for outdoor use
The fans do not oscillate.
FOR CUSTOMER PICKUPS: MISTING FANS MUST BE TRANSPORTED UPRIGHT IN A CARGO VAN OR BOX TRUCK. WE WILL NOT ALLOW PICK UP/RETURN IN ANY OTHER VEHICLE. THE UNIT WILL HAVE TO BE DELIVERED
Please do not let the fans run dry. You will damage the pump and will have to pay for replacement of a new fan.