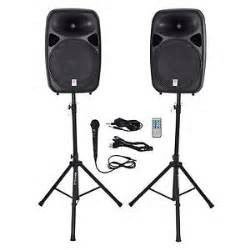 12" Powered Speakers with Stands and Microphone
-(2) 12" DJ/PA Speakers
-(2) Rugged tripod speaker stands.
-(1) Wired microphone included for live performances or speeches
-(1) 19 Ft. 1/4" Cable for Active to Passive Speaker Connection.
-(1) 1/4" Cable for Musical Instruments, CD Players, Etc. Power cable for Active Speaker. Wireless Remote Control.
-Bluetooth Built In- Now you can input any audio signal from your Bluetooth enabled music player or phone. No cables necessary!
-USB input for MP3 playback from thumb drive (for iPhone/iPod audio use AUX/RCA inputs). SD digital MP3 music player.
-FM Radio Built-In- tune to your favorite FM radio stations. LCD screen- displays MP3 functions and easy BT connectivity pairing. Wireless remote control- Enjoy the added convenience of being able to adjust any of the MP3 player functions, including volume, from the included wireless remote.